It is with some sadness we say goodbye to Gypsy Rover as we had her designed & built to suit our needs.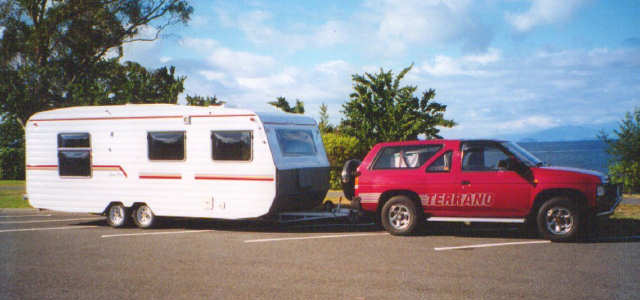 However all is not lost as we have gained a newer model which is a Regent caravan, built in Australia. It was originally built as a specialized van for a government dept, who now no longer require it. It is the same length as Gypsy Rover but slightly wider. It was built as 3 cubicles or rooms.
It has no bed, fridge, hot water or stove but plenty of cupboards & benches.
The first thing to do is build a bed so that we could at least use the van despite its short comings. We have started to modify it by pulling out some cabinetís so that the bed could be built. As the drawer unitís were far too big for our purposes they will be cut down & re-used.
The next problem is obtaining some wall board to repair the wall damage where units were pulled out. This is proving to be a bit of a mission as we suspected that it may be a deleted line due to Regent caravans in Australia going out of business earlier this year. However we have managed to track down a supply from Leisureline Caravans in Hamilton. However this did not take place as planned because Leisureline ran out of stock & had to order more in from Australia. Upon arrival in Auckland the container was quarantined due to an infestation of termites. Once the container has been fumigated & the freight released I should get my new board very soon.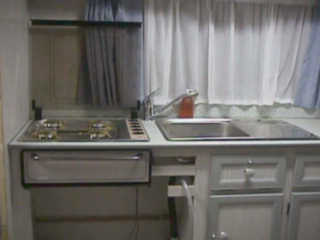 The gas hob that we decided to fit is unavailable in NZ so we have had to order one from the UK which will take about 8 weeks delivery, in the meantime we will cook on the BBQ or in the Microwave. We will also fit a Dometic 3 way 90Litre fridge & a gas/electric hot water unit.
We will keep a photographic record of the work as it progresses & add it to the website accordingly.
Below are photographs from the caravan when we purchased it (25th October 2002). Modifications required to build a bed in the rear compartment with drawer units on either side. Existing units will all be utilized as far as possible. Curtains and drapes came up as new in the wash, saving the purchase of new ones which was originally thought necessary. Modernized curtain tracks have been installed to replace the original and two of the curtains remade to suit.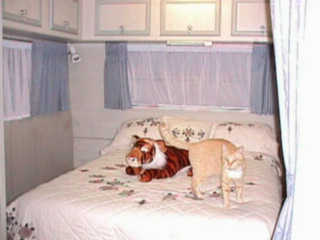 As at December 2002 I have modified the bedroom by taking out the existing fittings & building a double bed. Items such as drawers are being re-used.
February 2003. Now all the wrecking is finished it's time to start rebuilding the way we want it.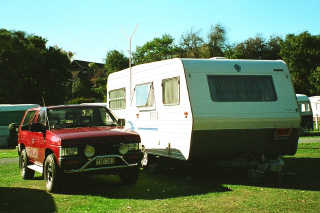 August 2003. Still suffering delays from suppliers in Australia who seem to be incapable of correctly supplying what I order. The whole job should have been completed by now but at least we can still get away in the caravan even though it might look a bit rough at times.
October 2003. Finally received all the plastic trim I need so I can now get stuck in & get things finished.
August 2004. Have now purchased a Dometic 90lt 3way fridge which will need to have some trim around it as it is slightly larger than the space it fit's into.
November 2004. While away on one of our many club trips we were confronted by a truck on a twisty windy hill road. The driver of the truck decided that my side of the road was better than his & we met on a blind corner. We both took evasive action, not that there was much room to move, & missed having a serious accident. As soon as I could, I stopped to inspect the caravan to find that he had just clipped the caravan & damaged the corner moulding & luckily he had not punctured the bodywork. As at June 2005 we are still trying to get repairs carried out.
February 2005.The final stage has now been completed with the new upholstery being fitted. You can compare the old & the new upholstery in the photo section. A complete contrast in comfort & warmth.