To view our earlier diary click here
On the 2nd October we set off from New Zealand to return to the UK via Hong Kong where we spent a couple of days shopping (there are still some bargains to be had here) and sight seeing. The 90 minute trip from the airport to Kowloon was a real eye opener to see how Hong Hong has gone ahead with motorways, modern railway and new buildings everywhere. It was very pleasant at 32deg C and moderate humidity but we still kept heading off into air conditioned shopping centres for some respite from the sun during our shopping forays.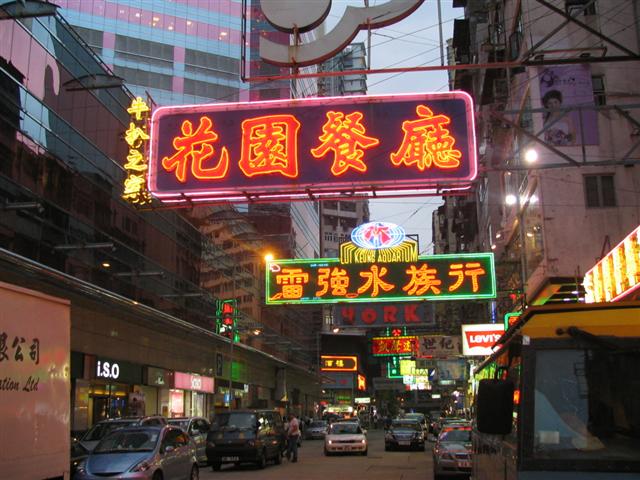 We arrived at Heathrow on the 5th October and spent one very noisy sleepless night in London before catching a Virgin train the following morning to Holyhead. A very pleasant journey in very comfortable conditions. From here it was fast ferry trip across to Dun Laoghaire in Ireland for an 8 day self drive tour of Southern Ireland. Even though it was late in the season the weather was very kind to us with only 2 wet days. We based our trip on the coach tours itinerary which took in all the points of interest.
Our first stop was at Powerscourt Town House which something akin to Woburn Abbey in the UK. The grounds were beautiful with a lake, fountain and statues dotted around the grounds. Waterford and the Crystal Glass factory was a must and we now know why crystal is so expensive. It is very labour intensive with as many as 8 quality control checks and no seconds. If it's not right it's back to the melting pot.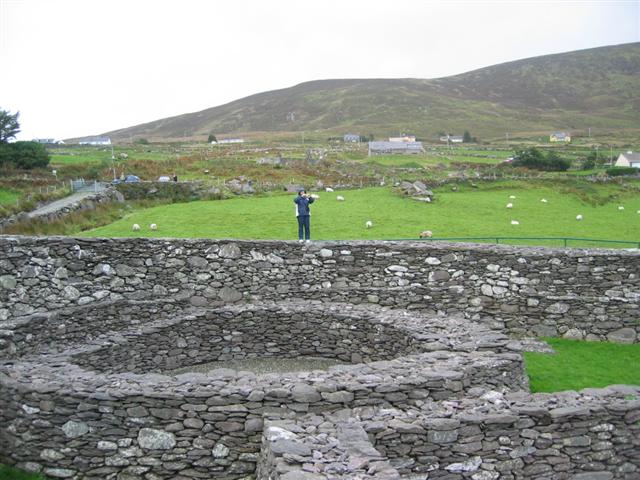 Next port of call was Blarney castle where Dot has a vested interest because it was built by somebody named McCarthy and that is Dot's maiden name. We also found one other castle built by the same guy. Do I detect a hint of ancestral right's sneaking in here?
Unfortunately the wettest day of our tour was the day we drove around the Ring of Kerry. We had been told that the road around the Ring was not for the faint hearted but work is under way to widen and straighten it probably due to the fact so many tour coaches travel over it. This was the longest day's travel we had, as we covered 230km in 1 day.
Our next port of call was Tralee where our Bed and Breakfast was actually 23km further north. From our bedroom window was a very picturesque rural setting with Carrigafoyle castle immediately opposite us across the river estuary. The surrounding farm was run by our host's father who still farmed in the old traditional ways. He would not entertain anything new and mechanical preferring to use the old trusty horse instead.
The next day we headed off to Tarbert to catch the car ferry across the Shannon estuary which saved us quite a lengthy road journey. We were heading for Galway Bay and on our way we visited the Cliffs of Moher. These were on a par with the cliffs along the west coast of the South Island of New Zealand, spectacular! Because so many people climb over the safety barriers to get a closer look at the cliffs they are now building a covered in observation deck on the cliff face incorporating a restaurant and facilities for the disabled.
Our Bed and Breakfast in Galway was overlooking the bay but I'm afraid the view across the bay was a bit of a let down.
On our way back towards Dublin we stopped at Ballinasloe which is the oldest horse market trading town in Ireland. The town is virtually in the centre of the country and convenient to farmers and the like who bought and sold horse's. There is a full size bronze statue of a man and horse in the town centre which commemorates the town's association with horse trading.
The prehistoric tombs at New Grange in the Boyne Valley were a real mind boggler and in terms of construction etc; would be equal to the pyramids of Egypt in terms of where the raw materials are known to have originated and how they were transported to New Grange and erected. It's amazing that these pre-historic people were smarter than you can imagine.
Our Bed and Breakfast in Dublin was at Sword. Our hostess recommended we have dinner at a very up market golf and sports club which was close by. With it's plush upholstery and leather arm chairs we felt like Lord and Lady of the manor.
The last day of the trip was in Dublin and the visit would not be complete without a visit to the Guinness brewery and a free sample of this nectar of the gods in the 6th floor observation bar with it's all round view of Dublin.
On our ferry trip back to England the ferry was shadowed by an Air Sea Rescue helicopter who we were informed would be carrying out personnel transfers as part of a training exercise. The helicopter came so close we could easily see the faces of the crew and pilot. We also watched another helicopter carrying out a cat and mouse operation with a fishing boat which was determined to avoid contact with the helicopter. Never a dull moment on this trip.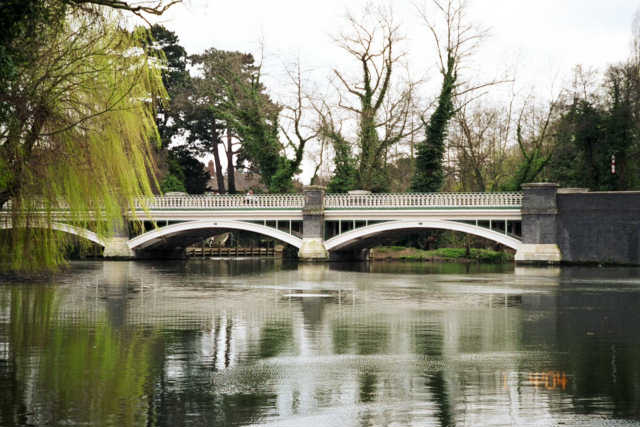 Back in London it was another noisy sleepless night before we headed of to Godalming to be re-united with Gypsyrover, our main objective of the trip. The boat was in good condition after 2 seasons with Farncombe boats. Russell and his team had looked after her very well.
Our first job was to negotiate the only lock between the boat house and the town centre where we took on provisions. The next day we set off down the river Wey towards the Thames with our first overnight stop at Dapdune wharf, Guildford. This was an old gunpowder store but is now the visitor centre for the Wey navigation with its exhibits on the history of the river and the people that have lived and worked on the river. Well worth a visit by car or boat.
The second night was spent at Coxes Mill in Weybridge which started life in 1783 and finally closed as a mill in 1983. The building has been preserved and is now converted into flats. The next morning saw us pass through the Thames lock where the lock keeper told us that the Thames was at its lowest level for many decades and to be sure to keep to marked channels. With this information on board we headed of up river towards Windsor and Reading. The river was just like a mill pond.
We only travelled up as far as Staines to begin with and moored close to the railway bridge were Derek was fortunate enough to see a steam engine pulling a single BR MK1 carriage. It turned out to be one of Sir Nigel Gresley's A4s #60009 Union of South Africa. Here we visited the town looking for a library (free internet access) and a laundrette as we were beginning to run out of clean clothes. We made this our first night overnight mooring on the Thames. From here we travelled up through Windsor with the intention of mooring here on our way back down river however after motoring for several hours we realised that if we were to achieve everything we wanted to do in London we would not have enough time to reach Reading so we did a 180deg turn and headed back to Windsor were we found plenty of moorings very close to the town and the castle.
After 2 days in Windsor it was time to move on. Our next plan was to moor at the visitor moorings at Hampton Court but when we got there we found that the moorings were now private moorings so unavailable. From here it was a short run down to Kingston upon Thames where we found the official moorings for Hampton Court were now situated. We stayed here 3 nights and 4 days as it was convenient to the railway station for trips into London and Watford where Derek originates and visited an elderly Aunt.
As time was running short and we had a date with Qantas Airlines to return to NZ we decide it would be prudent to start heading back up river towards the river Wey allowing for any mishaps. Somewhere near Shepperton we decided to moor up for the night before re-entering the Wey but moorings on the Thames are not as plentiful as you might think. We approached one site where there were already 4 boats moored up but on closer inspection there was not enough room for us to squeeze our 55 feet into. As we started to pull away an elderly gentleman appeared from his cabin and told us to "go about" and he would move his boat to let us in. After doing a big circle in the middle of the river we very carefully approached the mooring again and with assistance from the very same gentleman we managed to squeeze in. Who said chivalry was dead.
The next morning we re-entered the Wey with a pleasant "welcome back" from the lock keeper. We made our first overnight mooring back at Dapdune wharf and the following day we moved up near the White House pub in Guildford as we had arranged to meet friends from Birmingham. They originated from our home town in NZ and are now living on their narrowboat "Pania" in the Birmingham area. That night turned out to be a bit of a pub crawl trying to find a reasonable eating establishment, however we finished up back at the Whitehouse for an enjoyable meal and a long chat over a few ales. Right alongside where we moored was a bronze sculpture of Alice in Wonderland with 2 girls sitting reading the book and a rabbit bounding along towards his burrow in the ground. You can actually read the page of the book that the girls have the book open at. It is all in connection with Lewis Carroll the author and his association with the town.
After nearly 3 weeks on Gypsyrover It was time to return to Farncombe boats and leave her in their care until next year when we return to start our live aboard adventure and try and cover as much of the navigable waterways that we possibly can and hopefully catch up with all our narrowboat contacts that we have made over the past few years.
Our return journey was made via Bangkok where we visited the Golden Temple and palace, visited the bridge over the River Kwai and travelled by train along the Thai - Burma railway to where it now terminates. The final 54 kilometres of railway line have been closed by the Thai government as being too costly to maintain. The railway is used on a daily basis by the locals as a commuter service. It was quite funny as we were told that there was a buffet service on the train, this consisted of 2 people walking through the train with bottles of soft drink and beer in a bucket of ice and a basketful of local delicacies.
The visit to the war museum of which there are 2, was a real eye opener. The newest museum which is opposite the war graves cemetery is free entry and the other which is beside the bridge has a 30 Baht entry fee. The cemetery itself is beautifully kept and laid out with each nationality having their own area. After reading some of the stories in the museum I am afraid that the Japanese still have a lot to answer for over what took place in Thailand. One story told of POWs or the conscripted Malays, Thais and Chinese when they fell ill and were unable to work they were made to catch 140 flies a day, usually in the latrines otherwise they didn't get the daily issue of rice which was generally of a substandard quality. There is a video recording made by a Japanese officer of the time who stated that the Japanese hierarchy knew of the Geneva convention regarding treatment of POW's but didn't tell their own soldiers because they thought that they would not fight to the death as the Japanese military had trained them to do. Even after POW's who had limbs amputated they were still expected to work. Today the jungle is still quite dense in places and after riding the train and seeing what those people achieved under such harsh conditions one cannot help but feel sorrow and disgust as to what took place there.
After arriving back in NZ we had a day and a half to get ourselves sorted out before it was back to work.
Roll on October 2006.
To view our earlier diary click here