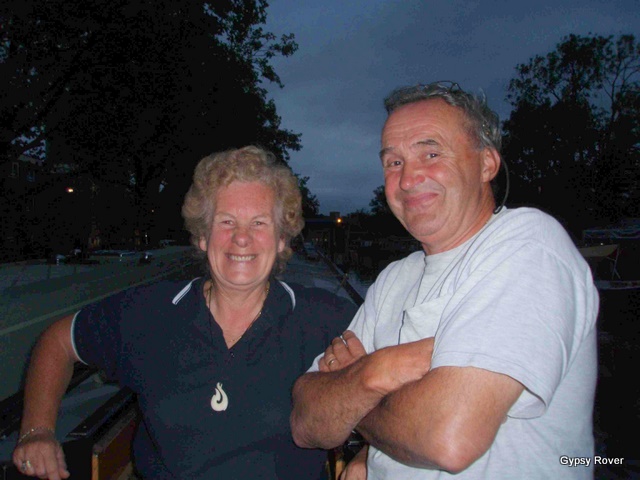 Derek was born and raised in Watford, Hertfordshire. He attended Leavesden Green Church of England Primary School which was taken over by the state run primary school in 1955 (Leavesden Green county primary) and then onto Francis Coombes Secondary Modern. Upon leaving school at Easter 1961 he started his working career at Whipsnade Zoo, Bedfordshire as a trainee keeper. Two years later his family found themselves moving to Wellington New Zealand.
Dorothy (Dot to most people) is a first generation Kiwi. Her father was brought out from East Ham, London to New Zealand as a 5 year old and her mother was born in Wellington, New Zealand. Dot had always wanted to go to the United Kingdom to see where her ancestry began and her dream finally came true in 1995. She was elated to be able to find the house where her father was born (it was actually up for sale) and the school that he attended for a short time.
My earliest connection with "The Cut" (Grand Union Canal) was as a young lad with fishing as a hobby. Many a day during school holidays was spent at Langley Mill just North of Watford or in Cassiobury Park in Watford where you could fish the cut or the river Colne as they ran side by side through the park. I can recall a fishing competition that was held for children being held on the canal in Cassiobury Park. On that occasion I had my photograph taken and appeared in the Watford Observor weekly newspaper.
At this time there were still a few working barges/narrow boats plying in and out of London and I can recall them sitting low in the water when loaded with the motor boat towing the butty and when empty would quite often be lashed side by side and sitting high up out of the water. There were locks at both of these fishing haunts and I used to love watching the barges go through them from one level to another.
It has come to light that the name Canvin has a history on the cut. George and Phyl Barber are researching the Canvin family tree and Phyl is a second cousin to Derek. Several members of the family were born at Lady Capels wharf on the Grand Union Canal around the turn of the century and they operated barges named 'Elizabeth', 'Philadelphius' and 'Unostentatious'. There was also a Canvin's wharf on the Berkhamstead Arm of the Grand Union Canal. Apparently there is no sign of the wharf now.
After emigrating to New Zealand in 1963 I missed the course fishing and the canal as there is only sport fishing for salmon and trout or sea fishing in NZ.
Years later I became aware of recreational barges appearing on the canals that were still in existence but it was not until 1995 that I got the opportunity to try out one of these barges for myself. On a holiday visit to the UK Dot and I booked Artic Fox from Fox boats at March on the Middle level of the Fens in Cambridgeshire. We enjoyed it so much that on another visit in 2001 we decided that we had to do the famous Llangollen Canal. So it was, that we hired Daisy from Anglo-Welsh and did the Bunbury to Trevor trip over the Llangollen. As it was the end of the season and UK schools had re-started after the summer holidays the canal was nice and peaceful and considering that it was the first week in October the weather was quite favorable. After this we were hooked, we are now looking at our options in that we would like to spend a year or more when we retire touring as much of the waterways network as possible.
We have now signed a contract with Heron Boats at Mirfield to build a 55ft semi-trad which should be on the water by the beginning of 2004.
It is good to see that the British Government have finally come to realize the tourism potential of the unique canal system in the UK. It is great that they are now going to start helping with some financial assistance where in the past volunteers and donations with help from British Waterways and various other agencies have been the backbone of reviving the canal system. The UK is the only place where a narrow boat/canal environment can be truly experienced. It has the potential to bring in big tourist dollars and create jobs.
Here in NZ we satisfy our roaming gypsy instincts with a 6.2 metre caravan. We have just changed this from the model that we designed and had built in 1999 to a 2000 Regent caravan from Australia. You can check out what we are doing with this caravan by going to the "Regent" page. We try to get away in the van at least once a month with members of the Heretaunga Caravan club to anywhere within 60-100km of Wellington. Unfortunately being at the southern most tip of the North Island we are restricted to traveling North all the time via state highway 1 up the west coast or state highway 2 via the Wairarapa.
The club has its own website, http://www.heretaungacaravanclub.wellington.net.nz